A missing Suspense I'd love to hear
A missing Suspense I'd love to hear
---
There was a broadcast on June 15, 1950 that I'd love to hear:
Deadline
with Broderick Crawford. It still eludes us. Originally planned for a live broadcast, it was recorded in advance 12 days before on a Saturday night. The script shows the revision from attributing "editing" to "transcribed" to Spier.
The script cover shows the production staff and cast arriving that evening on Saturday, June 3. The rehearsals and recording began at 7pm, scheduled to end at Midnight. And then who knows what happened after that! Crawford was supposedly a party animal.
Because of music union contract requirements, music that was pre-recorded had a higher rate of pay because the musicians would miss out on future use of their work (it's more complex than that, but it's a simple explanation for our purposes here). Since the intent was to broadcast
Suspense
only once, having the orchestra in for the recording of the dramatic portion did not make sense. Music staff (and likely Harlow Wilcox, the announcer) arrived on the day of the broadcast and supplied their contribution to the broadcast live on that Thursday, June 15 day. Their rehearsals and smoothing out timing began at 2:30pm PT and culminated in the 6pm PT national broadcast. Hmmm... maybe that Saturday after-party was less raucous than imagined without the musicians to assist...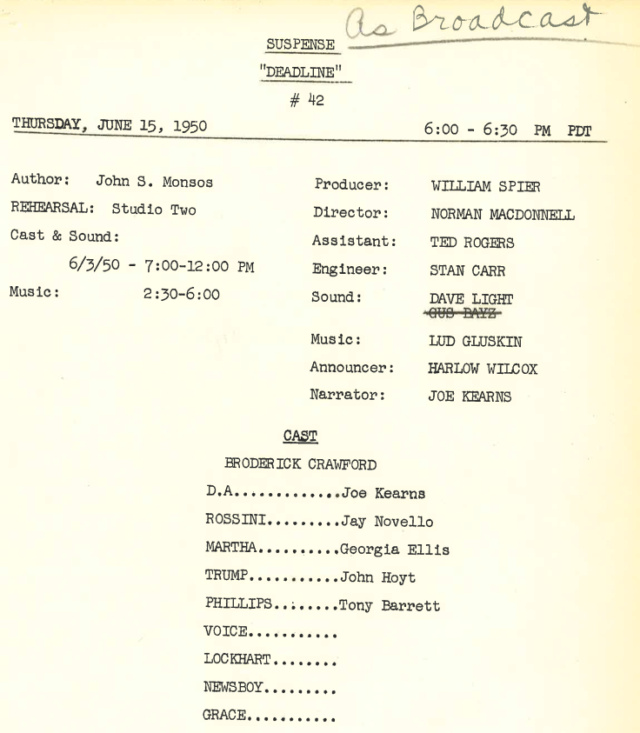 1950-06-11 Sioux City IA Journal
1950-06-15 Atlanta GA Constitution
1950-06-15 Battle Creek MI Enquirer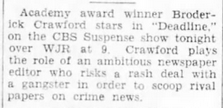 1950-06-15 Los Angeles CA Daily News
We have the complete script of the broadcast and I keep hoping that one of our many recreation groups would present the program. I'm not aware that any of them have.
--