50 Years of Old Time Radio conventions to be discussed on Saturday 12/4 @ 3pm Eastern on YesterdayUSA Blue
50 Years of Old Time Radio conventions to be discussed on Saturday 12/4 @ 3pm Eastern on YesterdayUSA Blue
---
Saturday, December 4 at 3pm US Eastern time I will be on YesterdayUSA Blue Network talking about 50 years of old time radio conventions.
http://yesterdayusa.net/listen/
I will be on with hosts Walden Hughes, Larry and John Gassman, collector Stu Weiss who was at every Connecticut and Newark convention from 1971 to the end in 2011, and Sean Dougherty who worked in the conventions in 1990s to the end (perhaps longer). Unfortunately, Jay Hickerson will not be able to join us. Jay is doing well after some medical setbacks and a couple of scares these past few years, but cannot be available. Karen tells us that he is still very active: "He is involved in our community theater group as a musical director, and also accompanying our community chorale for Veteran's Day and a holiday program. Thank goodness his talent and memory is strong."
The Hehn Collection had the issue of Jay's newsletter
Hello Again
with that convention's recap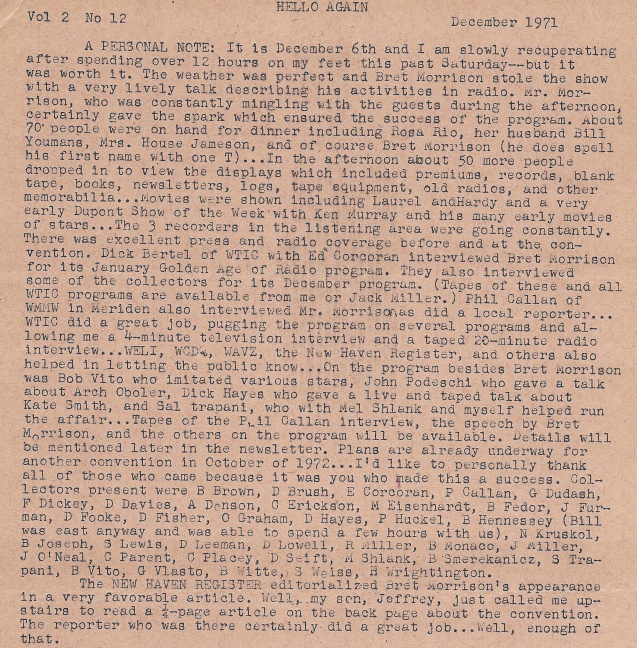 In 2009, OTRR's Ryan Ellett had a good article about OTR meetings and conventions in the MWOTRC newsletter. He had access to only a small digital archive of newsletters at that time. Since then there are many, many more of them available to fill in the gaps.
http://www.mwotrc.com/rr2009_10/historyotr.htm
I was not even aware of the hobby at the time of the first conventions; I had just started high school and had never even heard an OTR recording, which would not be until 1974. My first convention was in 1976 and I had great fun working on the committee. I had to give it up in the mid-1980s because of various work, academic, and family commitments. But I did get to the final convention in 2011 and had a marvelous time... it was like I never left...
Join us, won't you?
--